SHARE :

0

0

0
Sombunwit is a small school with a warm atmosphere, which provides the feeling of a second home for the children. The school's surrounding is full of nature, pleasant gardens, a lawn, sand pit and swimming pool. We believe that children learning in a natural environment develop at a greater pace. Children should have the opportunity to play outdoors, under sunlight, as well as in nature every day.
Young children have the capability to naturally learn languages without putting in too much effort. They are able to learn second and third languages easily, which is dramatically different from teenagers and adults who are learning them according to the grammar structure and curriculum. Therefore, you do not need to worry if children will get any stress from learning.
Pupils K.1 –K.3 will learn 3 languages– Thai, English and Mandarin. They will naturally learn 4 skills in line with their age, starting from listening and speaking, followed by reading and writing respectively through educational integration activities.
Our curriculum is "Mixed Academic and Integration Oriented". Children will happily learn both life experience and academics in line with their age and level. Our curriculum is designed to put the child as the center of focus.However, we are confident that our K.3 graduates are ableto further their education at any type of school. We will later discuss the individual pupil's educational path in K.2 Term 2.
Our Nursery and K.1 pupils will have the opportunity to experience more in practical life and sensory areas. They will learn to help themselves through daily life activities. Furthermore, they will start to count numbers and learn literacy basics, such as listening and speaking skills through games and songs.
When they move up to K. 2 and K.3, pupils practice reading, spelling and writing skills. They will learn addition and subtraction systematically through our Montessori concept. With our phonics curriculum, our pupils are able to read and write both Thai and English and are ready for any elementary schools.
In regards to Mandarin,K.1 and K.2 pupils will learn Chinese through songs, daily vocabularies and greetings. They will learn Pinyin and basic writing skill when they move up to K.3 level.
1. Our English program timetable calculation is: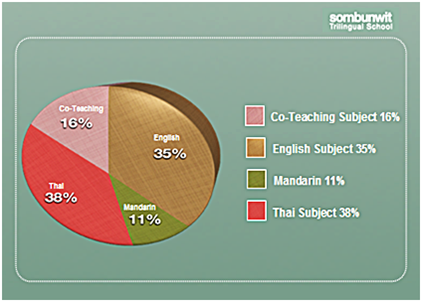 | Activities/ Subjects | Description |
| --- | --- |
| English | Subjects taught in English are Phonics, Fun English, Mini Scientist, Number, Life-Experience and English by songs. |
| Co-Teaching | Co- Teaching activities areCooking/Gardening, Montessori, Project Approach, Music & Story Telling, and Outdoor Activities. |
| Thai | Subjects taught in Thai are Thai Studies, Number and Life-Experience according to Thai National Curriculum. |
| Mandarin | 3 periods a week of Mandarin is enhanced to our curriculum. Children have opportunity to learn Mandarin through variety of games, music, daily life greeting and activities. |
| Others | Physical Education, Swimming, Riding a bike, Music and Movement. |
2.The Homeroom Teacher system helps children absorb more than 50% in English.
This system is designed to have both Foreign and Thai Teachers as Home Room teachers to closely take care of the children; therefore, children studying here will have the opportunity to communicate in English from their daily lives as well. Foreign teachers will join almost every activity with the children; for example, looking after them from arrival until their parents return, lunch time, playtime and even during the 3 language enhancement activities etc.
Ratio Teacher per Pupils
ระดับชั้น (Level)
อายุ (Age)
อัตราส่วนการดูแล
(ครู : เด็ก)
(Teacher : Kids)
เด็กเล็ก (Toddler)
1 Year 6 Months – 2 Years
1 : 4
เตรียมอนุบาล (Preschooler)
2 Years 1 Month up
1 : 6
อนุบาล 1(Kindergarten 1)
3 Year up
1 : 10
อนุบาล 2(Kindergarten 2)
4 Year up
1 : 10
อนุบาล3(Kindergarten 3)
5 Year up
1 : 10
Each pupil will receive 3 types of school reports.
Individual Portfolio: Our school evaluates pupils individually. Each pupil has his or her own Portfolio in order to appreciate distinctive points and supplement the weak points on a termly basis.
Daily, Weekly and Termly Progress Reports
Montessori Evaluation Reports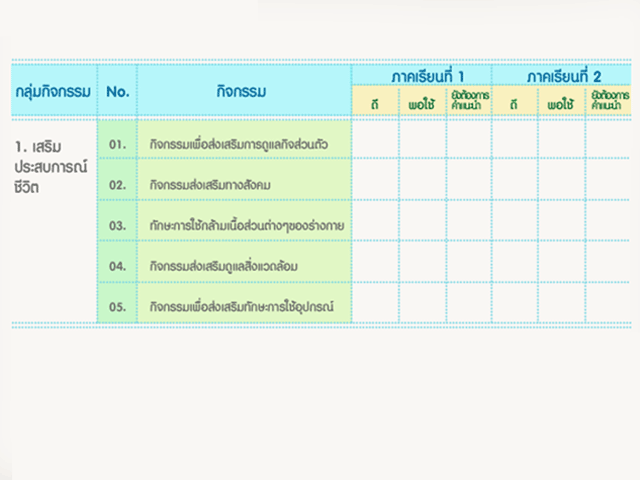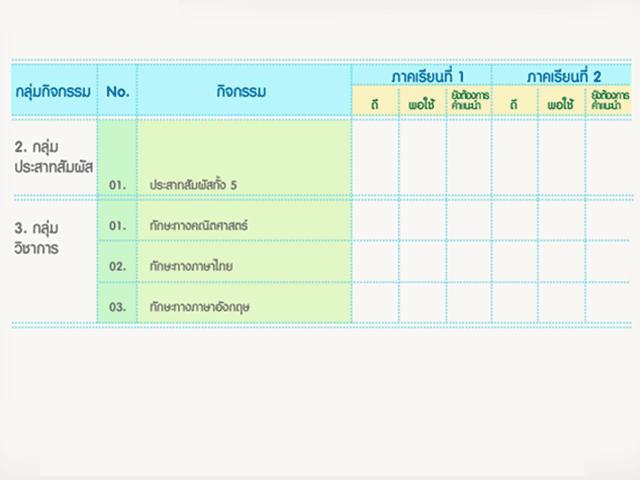 Our pupils are able to further their studies in any type of school, such as English Program School, Regular Program School, Alternative School or International School.
Assumption Convent
AssumptionCollege Rama 2 Campus
AssumptionCollege
Bangkok Christian College
St. Joseph Convent School
Saint Dominic
St. Gabriel's College
Santa Cruz Convent School
Meter Dei School
Sacred Heart Convent School
WattanaWittaya Academy
Rajini School
SatitBansomdej School
Darunsikkhalai School for Innovative LearningSrinakharinwirot University Demonstration School
Chulalongkorn University Demonstration School
Demostration School of SuanSunandhaRajabhat University
Our children are happy and love to come to school as the atmosphere feels like their second home.
Our students are assertive and confident.
Our school has a low ratio of Teacher per pupils. This makes for a caring and intimate atmosphere.
I.Q.+C.Q.+M.Q.+E.Q .+S.Q. +P.Q. = Integration
Our students have a 3 language communication advantage